Scenic Fit San Francisco is one of the most interesting and fun recent book design and production projects to come through the office of Design For Books. If you are contemplating creating a "how-to" or self-help book on any topic, this book is an excellent example of how it is done. Scenic Fit San Francisco is the vision of Tracy Hicks, a super-fit trail runner, mountain biker, and above all, an expert personal instructor with over a decade of experience instructing outdoor workouts for groups.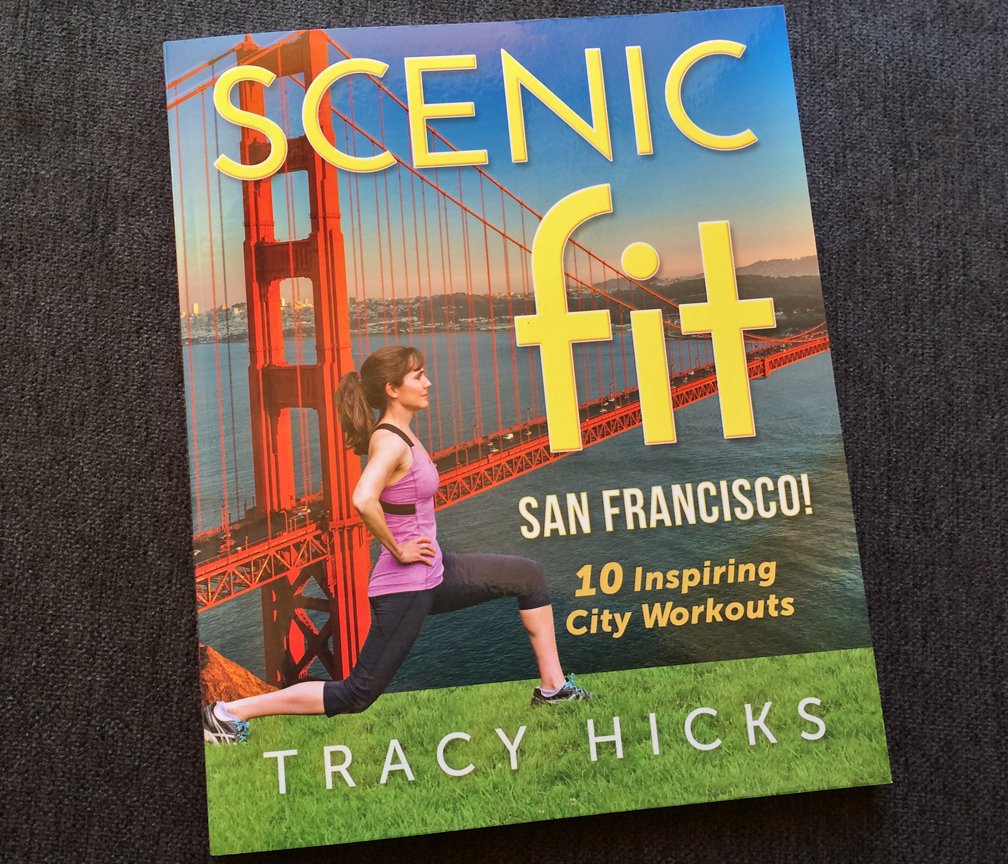 People always say that if you want to be a good writer, write about what you know. That Tracy has done. Her book is a perfect combination of her passion for fitness and her brilliant vision for how to help others get fit and stay fit. San Francisco is her home where she leads workout classes in beautiful scenic locations. This book made me quit my gym membership. Exercising outside is way more motivational. Tracy shows the way to making fitness part of a quality lifestyle experience.
Her book is an easy-to-use resource for both long-time locals and visiting tourists who want to stay fit while exploring the city. There are workouts on beaches, in wooded parks, incredibly beautiful gardens, and historical locations. Just following these workouts will help you discover some of the best locations and views in San Francisco.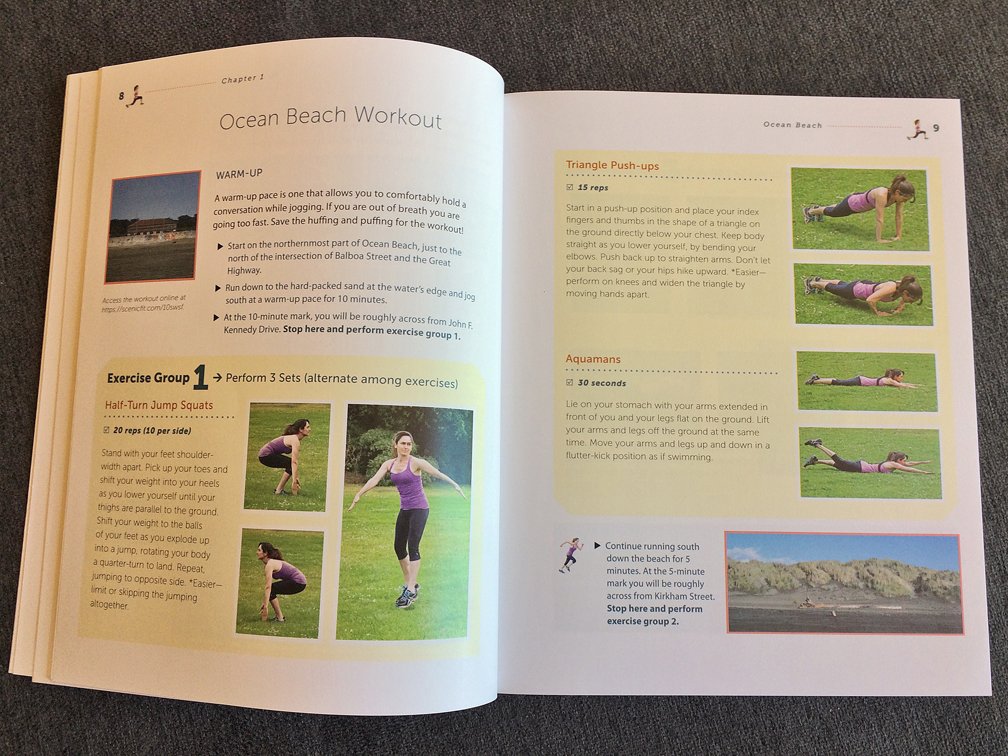 Book design is an important way to add value to a publication and help it stand out among the competition. How the content is developed is very important to how well the design process will work. With clear content development, the design will help readers get value from a book without having to read the whole book or struggle to find the information they want. Each type of information category can have its own distinct appearance. These design features become visual tools for navigating the book. This enhanced navigation is created by features such as photos in the table of contents that match the large chapter-opening photos and consistent information categories that enable recurring content to be easily recognized.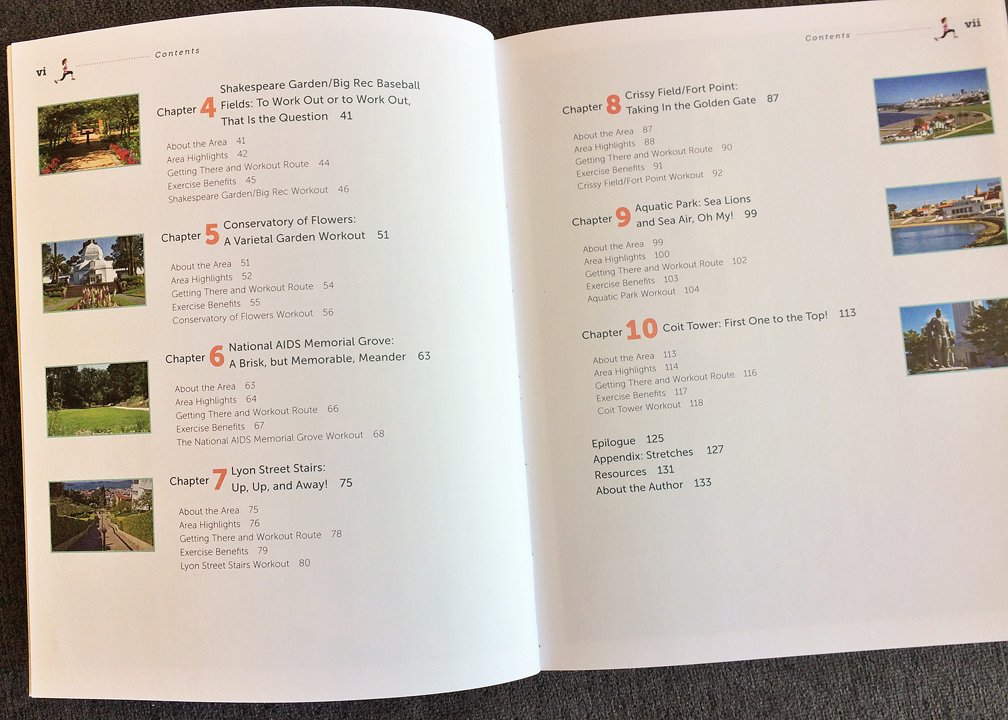 The book's well thought out planning and organization shows in the easy-to-follow instructions, custom maps with point-by-point workout routes, beautiful location photos, and enough historical background information to allow you to make a connection with the city. But the book features don't stop there. The book includes everything you need to make the workouts successful outings and to create a visually interesting book:
Area highlights
How to get there information
Individual route maps
Information for parking, restrooms, hours, etc.
Public transportation options
Things to know before going
Exercise benefits
Exercises for different levels
Time and distance
Warm-up instructions
Exercise instructions with photo illustrations
Links to online workouts
After workout stretches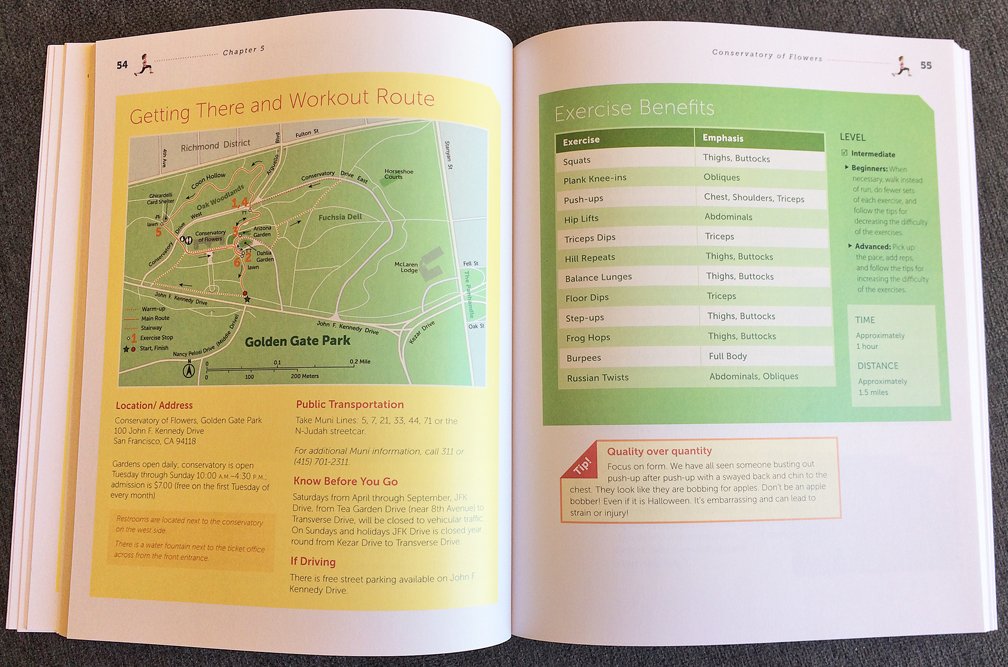 While working on the project we ran into a roadblock trying to find a photographer who could do the scenic location photos within the budget and schedule. Eventually, I suggested my son, Lorenzo Rohani, who was already a young award-winning wildlife photographer. It seemed to me, scenic urban landscapes was easily within his skill set, so it wasn't long before we were on the assignment while enjoying San Francisco on the side. Visiting the locations in the book while my son was taking the photos convinced me that Tracy's book is a good guide to San Francisco even if you didn't do the workouts. San Francisco is definitely one of America's most beautiful cities and to experience it, you will want to see the locations in her book. I have visited the city three or four times before, but this was the first time I really felt like I was getting to know the best spots.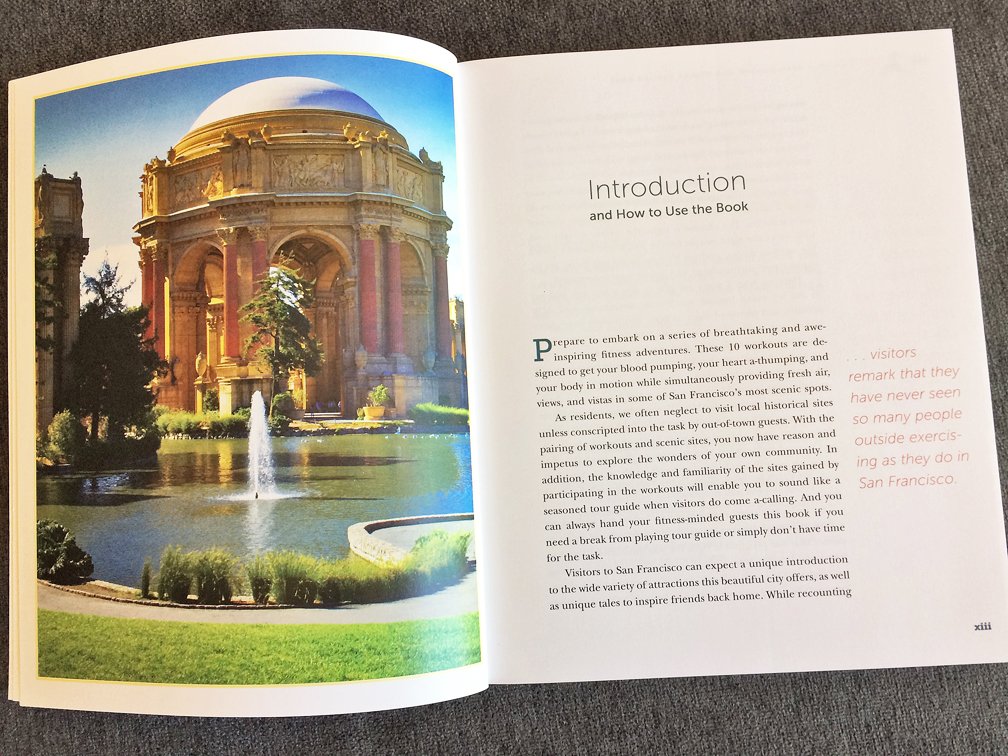 As part of the project, I also designed created online web pages for Tracy that allow people to access the workouts anywhere with their cell phones. These online pages help users find specific scenic locations mentioned in the guidebook and complete the workouts with audio instruction and exercise photos. The workouts in the book include links to this web content.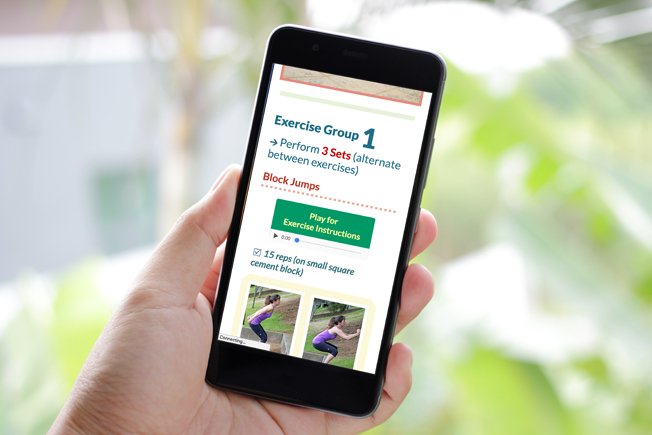 f you get a copy of the book, you'll likely want more and that's coming. The book is a component of a larger body of content Tracy Hicks is developing that includes ten additional scenic workouts for a second volume and the Scenic Fit website and blog with many interesting features on their way such as fitness inspiration and delicious recipes. Next time you visit San Francisco, be sure to get a copy of Tracy's book.