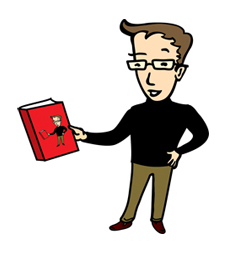 To help promote your book, you need an author bio. The purpose of an author bio is to persuade readers to buy your book. Or put another way, an effective author bio is one that has a positive influence on the purchase decision.
Focus on the Purpose of Your Author Bio
This same sales principle that applies to the book cover, the design of your book, retail features on the cover (price, shelving category, barcode, publisher identity), and all the other back cover texts (book description, endorsements), applies to your author bio. All the design work, texts, and retail elements serve one primary purpose which is to generate book sales.
To achieve this goal an author bio must convince your audience that you are authoritative—meaning that you have the experience, talent, qualifications, or credentials to write about whatever topic you have chosen.
Another important purpose of an author bio is to convince book industry professionals and event planners that you are capable and available to market your book by giving book readings, participating at book signings, speaking to audiences, doing workshops or seminars, etc.
Start with an Outline
Compile a list of your achievements, experiences, and credentials. Consider mentioning
past publications (articles or books), including blogging experience;
relevant experiences and accomplishments;
any awards won;
workshop and speaker experiences;
membership in relevant organizations; and
any important professional or volunteer work you've done.
If you have given workshops in different cities or countries, list them. If you have relationships with people who are important to your story, mention them. If there are notable cases or projects you have worked on or completed, mention them.
Include certification credentials next to your name if they are relevant and especially doctorate level degrees (MD, PhD, EdD, etc.). If, for example, you are writing about health or nutrition include any appropriate credentials (CNS, CCN, RD, CNC, CN, MD, ND, etc.).
Remember that once you publish it, it will always be out there and you can't make it disappear—so be truthful and consider how the author bio might be understood in the future. Your author bio is a critical pillar in your personal brand.
Identify and prioritize those features of your author bio that are most likely to persuade readers to buy the book and believe in your abilities. Put the most important details at the start of your author bio. Eliminate details that are unrelated to your qualifications to write about your chosen topic. Avoid, for example, any information about hobbies, travels, interests, household pets, etc., that are unrelated to the book.
If humor is important to your book, a humorous author bio may help persuade readers that you can and will deliver humor in your book.
If the primary purpose of your book is to generate speaking engagements, then shift the focus of your author bio more in that direction by stressing your credentials and experience as a public speaker.
Formulate a Mission Statement
Whether you have a long list of credentials or none at all, formulate a mission statement. A mission statement is a short summary of your aims and values.
Use the mission statement as a lens through which to view all the statements and claims in your author bio. This will help your keyword and phrase choices and the overall focus and unity of your author bio.
Let's assume you have written your first sci-fi book and there is nothing in your job history or experiences that relate to your new literary aspirations. In this situation, your author bio can consist of a type of mission statement that allows readers to understand your aims and values. Of course, you only want to mention those aims and values that help attract readers to the actual genre and story you are publishing.
Keep it Short
Two to three short paragraphs are sufficient. A good bio does not need to be long. 400 words or less is fine. Once you have completed the author bio, create several edited versions, one that is about three sentences long, and one that is only one sentence. You will need the different lengths for different purposes.
Ways to Use Your Author Bio
You'll usually need a very short version for the back cover of paperback editions. This back cover bio can be as short as one to three sentences that focus on your credentials.
I'm often asked by authors: "Should I include an 'About the Author' page at the end of the book if I already have an author bio on the back cover?" The answer is yes. The back cover bio is usually very short because of limited space. Reader endorsements are more valuable than the author bio. If you have two or three reader endorsements and a short book description, too little space remains for a long author bio. Put a short author bio on the back cover and a longer one at the end of the book. If the back cover bio only includes the most relevant credentials or experiences, then the longer "About the Author" page can mention other accomplishments such as notable speaking engagements you have given or workshops you give.
Use the longer, more complete, author bio for your "About the Author" page, website, and for your press kit. Put a press kit on your website so people can download and print it, or share it as a PDF.
Do You Need to Include an Author Photo?
If you are attractive or have an author photo that reinforces your credentials, you should include it. If you are, for example, writing about mountain climbing and you have a photo of yourself on a mountain in appropriate gear, use it. If you are a business professional, dress in appropriate business attire. Try to use a photo that fits your author credentials.
If you use a professional photography studio to get your photo taken, be sure to let them know that you plan to use the photo for "commercial" purposes. Most photography studios have separate fees for personal and commercial use. You'll need commercial use.
Be sure to read my blog Tips For Writing The Best Back Cover Copy