We provide affordable developmental editing, content development, copy editing, and proofreading services for all types of book projects.
Developmental Editing
Developmental editing or content development is ideal for authors who need help bringing a manuscript into form for publication. What seems clear to an author doesn't always appear clear to readers. An author may also overlook aspects that can enhance the marketing of a book. Developmental editing can make the purpose of your book easier to understand and easier to market.
Whether you have a simple book, a self-help book, or a complex textbook, developmental editing converts your rough manuscript into a book that readers find clear and useful.
What You Get
Developmental editing includes an in-depth manuscript assessment:
Mark up on an MS Word doc with track changes
Evaluate and improve the organization
Identify gaps in information, explanation, and sources
Identify redundant and tangential content
Make the manuscript more structured and focused
Making head levels parallel and logical
Identify marketing strengths and weaknesses
Provide review report
You will receive three things:
A detailed report: This includes main suggestions, observations, and any questions.
Word document: Manuscript with suggested edits using the track changes features of the Word document. This includes any grammatical, punctuation, or spelling errors noticed while reviewing the manuscript.
Consultation to discuss the report and suggestions
Content Development
Content development differs from developmental editing in that it provides more than advice and suggestions to improve the manuscript's organization, clarity, and completeness. For example, a developmental editor may suggest adding a glossary and indicate examples of terms and acronyms that could be included. A content developer would actually identify all the terms and acronyms and compose the glossary for the author.
Content development can include content creation, such as ghostwriting missing chapters of a book, composing texts from interviews, converting scholarly articles for general readers, writing texts for special features and sidebars, writing introductions or conclusions, providing missing explanations, compiling bibliographies, and so on.
Take Your Book Project to the Next Level
In addition to the above, we can help you enhance and add value to your book project in the following ways:
Identify information categories for book layout elements such as pull quotes, sidebars, and special features
Photo evaluation to make sure your photos are print-ready (correct format, resolution, and color mode)
Photo search to find rights-managed and public domain photos, maps, and illustrations to enhance your message
Suggestions for graphics (Convert concepts and ideas to visual images and diagrams)
Development of collateral resources (Including helping you repurpose tangential content for marketing and branding purposes)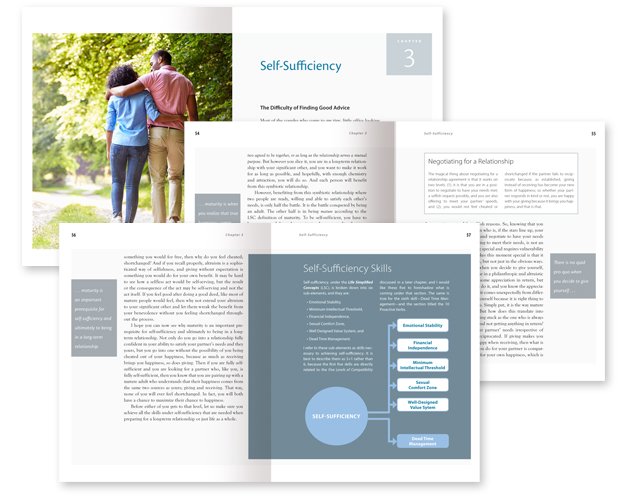 Developmental Editing Pricing
Prices vary depending on project size and complexity. Most projects are in the $6–15 per page range.
Content Development and Ghost Writing Pricing
Prices are based on identified tasks and an hourly estimate.
Avoid common and embarrassing mistakes.
Copy Editing
For copy editing, we have many professional and reliable editors and proofreaders that we work with. We will select the editor that best fits your project requirements and manage the process for you. Editors work in Microsoft Word using the track changes feature so you can see and evaluate each edit.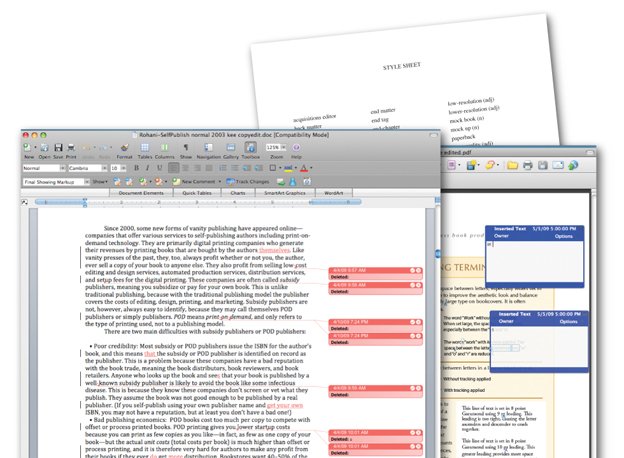 Our copy editing services focus on ensuring consistent voice, identifying missing transitions and conclusions, editing sentence structure (such as parallel construction, subject-verb agreement, internal logical fallacies), usage, punctuation, and grammar.
To make sure your book meets the expectations of book distributors, buyers, and reviewers, our editors check for style consistency—the prescribed writing and citation styles widely used in publishing—following the conventions of the Chicago Manual of Style for U.S. publications or The Oxford Guide to Style for U.K. publications, or as directed (Associated Press style guide, Yahoo, APA, MLA, etc.).
Our goal is to make sure your book meets and exceeds the expectations of book professionals.
Copy Editing Pricing
Prices vary depending on project size and complexity. Most projects are in the $4–8 per page range.
Proofreading
Once your manuscript is edited, it goes to the designer. Page layouts and cover files are created. If offset printing is used, there may be a number of related files to produce the book, such as a gold foil stamp for the case, an embossing file for the jacket, files for special spot vanishes, etc.
To help ensure all the final files correspond correctly and no errors were introduced or overlooked, we recommend having a professional proofreader check the files. We can provide proofreaders to assist in that effort. Proofreaders are helpful for all types of projects, simple and complex.
Want to do your own proofreading?
Download our free proofreading tip sheet.